Faemore's most recent meditation was on Midsummer 2011: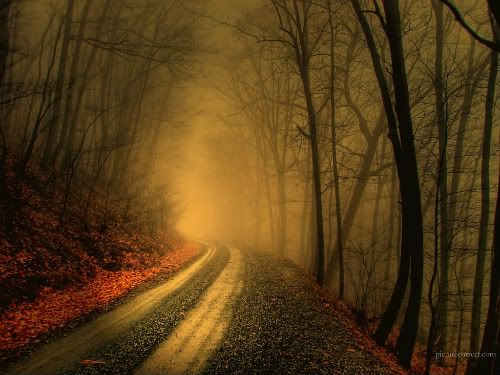 I enter a thick forest, but somehow I know my way. As I walk along a narrow, twisting path, overgrown with tree roots and hedged in by thick shrubs, it seems to me I am going to a dark and dense place where light cannot penetrate. I reach an opening in the trees. There before me is the home and haven of Wolf. It shelters its inhabitant against all exposure to the elements. The hole of the burrow is preserved like a fossil in darkness and time. It digs and tunnels deeply into the earth. I enter in.
I reach a den and stop before the entrance. I howl in hushed greeting. With a harsh, soft snarl Wolf rises to his feet. With a glance and a growl he acknowledges my presence. He challenges me with his posture, the fur on his back and shoulder standing up. He bares his beautiful, white teeth at me, teeth as sharp as knives. I almost turn to flee. Instead I turn to face him and enter his domain.
I am face to face with Wolf. With a daring heart I tell him why I wish to meet him. 'I wish to engorge myself on your magick of Teaching, Path-finding and Guardianship. I wish to walk with you and run by your side and howl in harmony with you at the full moon. I wish to rest in your shadow and ritual.' Wolf stares deeply into me with his golden eyes for a long time. I wonder at the inner Knowledge igniting the fires that glow from the depths of those mysterious eyes. I gaze back into him.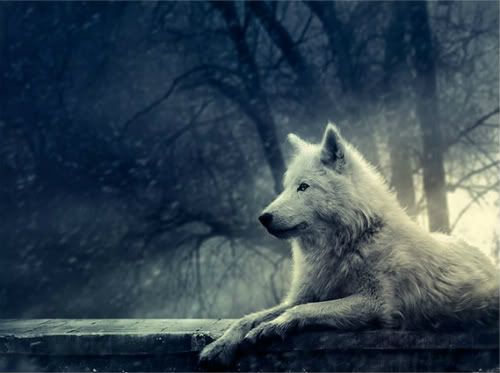 As we stare at each other, I feel myself slowly connecting with Wolf until I can see the surrounding dark brown walls of the den we are in through his eyes. I feel faint-hearted, apprehensive and edgy. The presence of Wolf is intimidating, daunting and immense. I feel a tug at my spirit to follow in his footsteps as he walks past me with a grunt of approval that tells me to come. There is no hesitation. I go with him. We leave his lair behind as we step out into the darkness of the night around us.
Wolf leads me through the trees to his destination, the center of an ancient grove of oaks in the deep, hallowed heart of forest. Here we lay on the forest floor, experiencing shared senses. We smell the breeze as it flows through our fur. We feel the earth under our paw. Our minds are one. It is the mind of the pack. After a while of simply being, Wolf rises to his feet and walks to the King of the Oaks, the most magnificent and majestic tree, in the North-East of the circle of trees. His voice rumbles in his chest and even as it rumbles, the tree rumbles in return.
Before my eyes a doorway opens up in the trunk of the tree. Wolf turns his head back to look at me before walking into the black hollow of the trunk. I follow him into the hollow with trust. It is immense inside the hollow trunk of the tree, like a wooden cavern, muted with darkness; an inner grotto, dark with silence. It is warm here. My eyes adjust to the black before them. Anticipation and expectation hang suspended on the balmy air. Before my adjusting eyes a tunnel is revealed.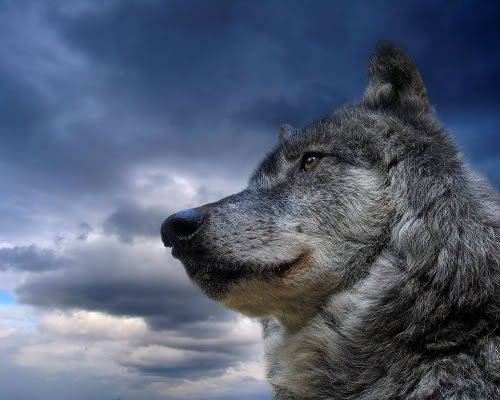 We walk further in, my padding paws revelling in the feeling of the crusty, cracked dirt floor beneath them. It gets cooler as we move forward. I settle into the comfort of two coats of fur insulating my skin. As we step from the cavern onto the path of the tunnel, and begin to follow it slowly along, I feel a sudden euphoria, and the soft, barking laugh of a wolf pup slides over my lolling tongue and through my own sharp, beautiful, white teeth. I feel like a child about to open a secret, about to discover a treasure, about to explore a wonderful world.
I reach out and touch the walls with my hands, and I am surprised at their warmth. It is as if I can feel the lifeblood of the earth herself flowing through the walls. As we move, the tunnel widens and grows taller. I notice it appears to be getting lighter, and as I look ahead, I see the reason why. The tunnel has widened so greatly that the star and moonlight are able to penetrate the darkness I now stand within. I can see beyond the end of the tunnel. We begin to trot to the end.
There is a distant pond, surrounded by lush green grass meadow and rich deep emerald forest. The moonlight sparkles off of its midnight dew. We pause only a moment. Then we run through the last few yards of the tunnel, bursting from it into the cold moonlight night of this beautiful meadow. We keep racing.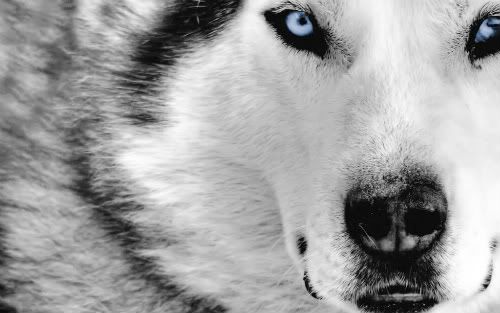 The moonlight is cool upon our face and the grass soft beneath our feet. Our nose is teased with the fragrance of honey and spring wildflowers. The air is sweet and I tilt my head back and stretch my arms wide. I spin and swirl and laugh at the wonder and magick of this meadow. I stop; my eyes ready. I listen to every movement and sound all around the forest. I listen to the wind flow through the trees. When I finally reach the water's edge there is a coyote there already staring at me.
I challenge it with a snarl, the fur on my back and shoulders standing up. I bare my beautiful, white teeth at him, teeth as sharp as knives. The coyote flees, knowing my power is far greater than his own, leaving me alone by the water. I crouch at the edge of the water and take my share of it. Even while I do this, I am aware of everything around me. The rising moon shines on the water. Licking the last drop of water from my nose, I shake my fur. Next to the pond is a large, ancient oak tree, The King of the Oaks. My voice rumbles in my chest and even as it rumbles, the tree rumbles in return.
I run back into the forest from where I came. When I burst from the tunnel into the cold moonlight night of the beautiful forest, I find myself standing once again before the burrow of my den. Then, I throw my head back and howl for the pure joy of it. I am alone. I am Wolf. I watch the meditation fade away into the darkness as I enter into my lair.
Brightly-spun breezes,
Lady Faemore Lorei.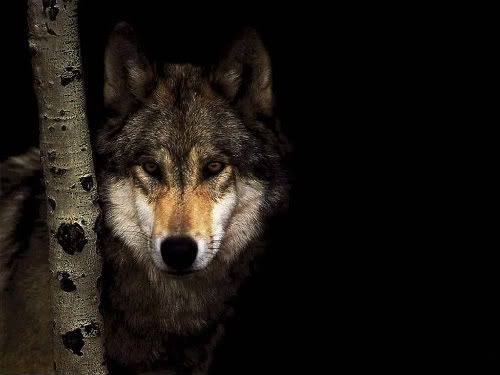 Faemore's previous meditation was:
I enter a thick forest, but some how I know my way. As I walked along a narrow, twisting path, overgrown with tree roots and hedged in by thick shrubs, it seems to me I am going to a dark and dense place where light could not penetrate. I reach an opening in the trees. There before me is the home of the Goddess Baba Yaga. The fence is made of bones topped with human skulls. The house dances on chicken legs. It is a fearsome sight, yet I know there is nothing to fear.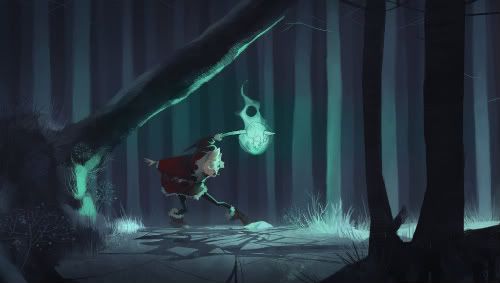 I reach the gate and ring the bell for her. In a harsh voice she asks why have I come. With a pure heart I tell her why I wish to meet her. 'In large part I'm on my own errand, but in large part I also come because of others. And in large part I have come because you are here, and because of the forest, and something I have forgotten, and in large part I know not why I come.'
She flies out of her house in her mortar to greet me. I feel awe, respect and reverence. She is mighty and worthy of veneration. Baba Yaga approaches and says "You'll do." She asks me to come with her for a ride. I do not hesitate. I go with her. I fly through the air in the mortar with Baba Yaga.
She takes me over the canopy of the forest. The tops of the trees scrap the bottom of the mortar. Baba Yaga cackles, her sharp iron teeth glinting in the bright dawn. In the distance, on the horizon, I see a craggy cliff with the yawning mouth of a cave in its stony and lonesome visage. We swoop down to land before it, on an outcropping ledge, high above the roiling waves.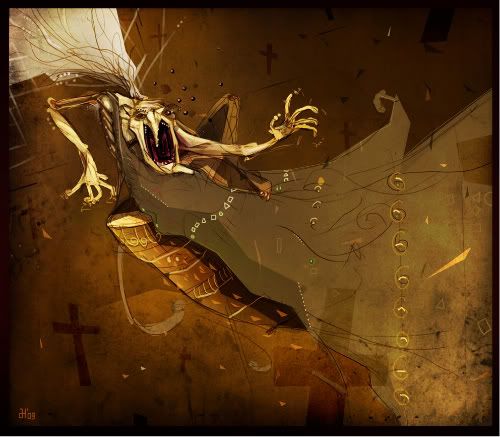 We enter the dark cave. In the center thereof is a silver cauldron on a fire tinged in green. Baba Yaga presents me with a piece of parchment and a quill. I can see her spidery writing clearly."Name that," it says, "which you fear most, so much that it blinds you to what you already have. Then, cast this parchment into the fire and be rid of it forever."
I think for a while and then I take the quill and write, casting the parchment into the fire - but I can't remember what I write, because as soon as the parchment burns up in the flames, I am free of it, and I see that there is so much else in my life that is more important and I know I can pursue my creative dreams unhindered by it now.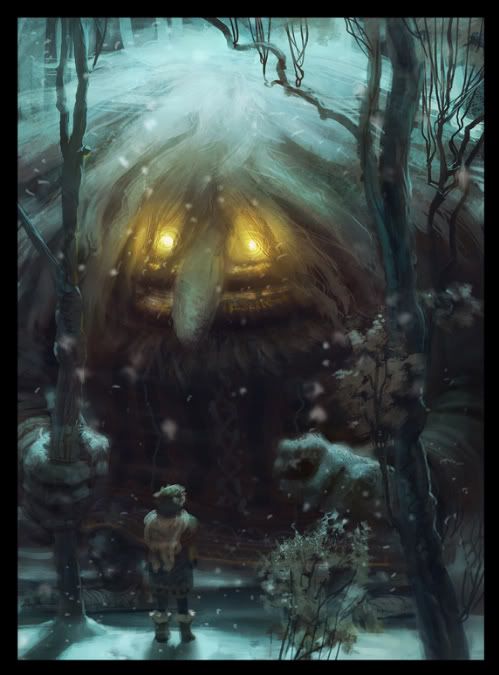 Baba Yaga turns. "You must soon be on your way," she said, looking at me with her wise old eyes. Suddenly twin torrential waterfalls start to cascade down from the dark of the cavernous ceiling into twin whirlpools below at the back of the cave. "I am the guardian of the fountains of the waters of life and death," she said.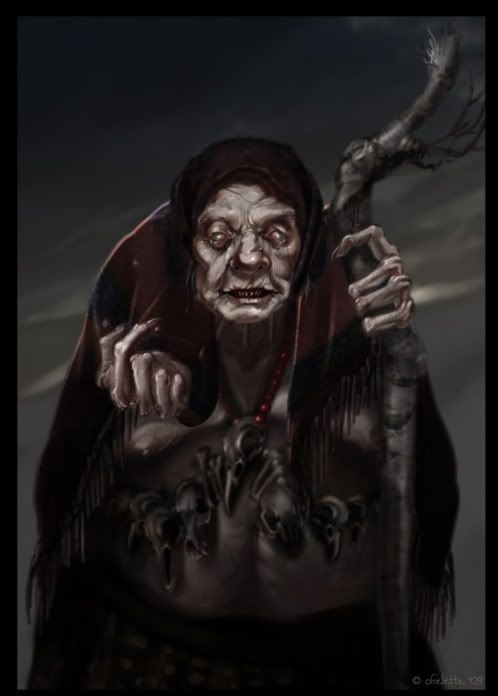 Before I can react she grounds me up into little pieces with her pestle. I feel all that I cling to and am connected to and call my own being grounded away from me forever by Baba Yaga, spinning into the vortex of the Underworld. Then she sprinkles the waters of death on me to heal my wounds, and then the waters of life to restore my life. I am back to myself. I feel refreshed, as if the unneeded traits were ground away.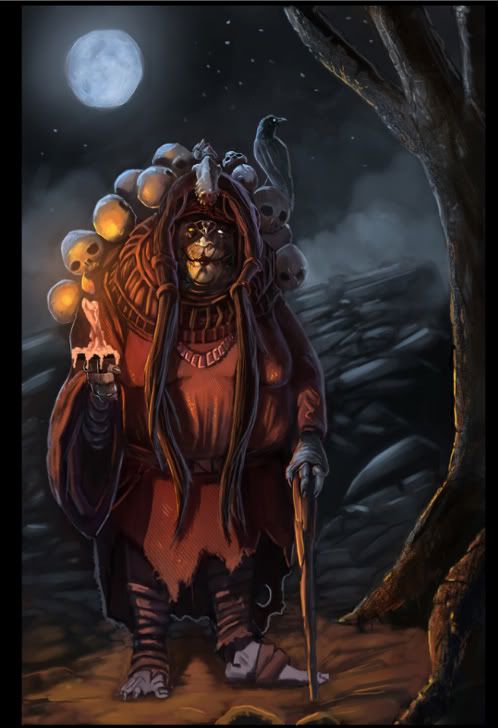 I am transmuted. I am restored and renewed, nourished and enlightened. I turn, looking at her with my own wise eyes. "I have burnt my fear and ground up my illusions. I thank you for your teaching and your guidance, your aid and your blessing." Baba Yaga nods and presents the mortar, gesturing for me to get in. We take off over the ocean, heading back to the hut in the forest.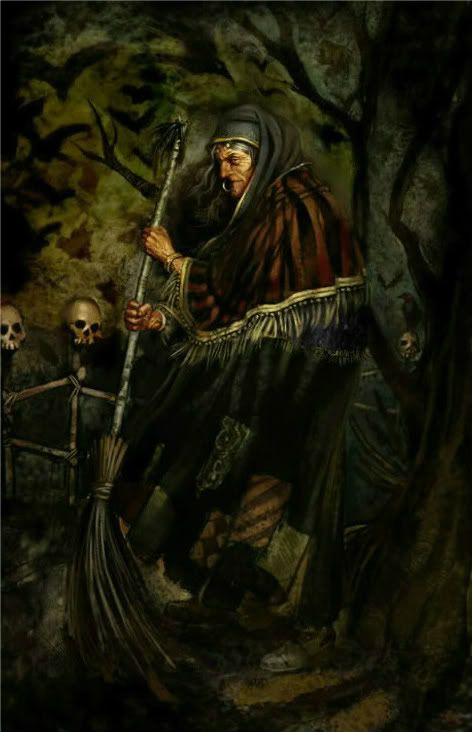 I enjoy the feeling of flying. Once we return to her home, I thank her again and give her the gifts of a corn, an egg and a mushroom. She has given me gifts too. She had given me death of Ego, transformation of Mind and rebirth of Spirit. Still she offers me one final gift. It is mortar and pestle of my own. I know my way back through the woods. Now I know the way and can visit Baba Yaga when needed.
Blessed be,
Faemore Lorei.