Lesovik is a very ancient being, one who has been there from the very sprouting of the primal Russian forest - for in a strange way, Lesovik is the forest. Some say he rules it and all that live within it. Some say he looks like a man, and is small and covered with fur, while others have said he is tall, with the horns and hooves of a goat. I see him as above, very otherworldly in manifestation and manner, with a crown of antlers upon his head and a goddess spiral upon his brow. Lesovik's eyes are deep, discerning and a bright, brilliant green. He is bearded and his beard is of living vines and grass, ivy and foliage. His body is liminal, a tall and willowy torso joined at the waist to the withers of a horse. He smiles with a smile that is unfriendly, but never cruel.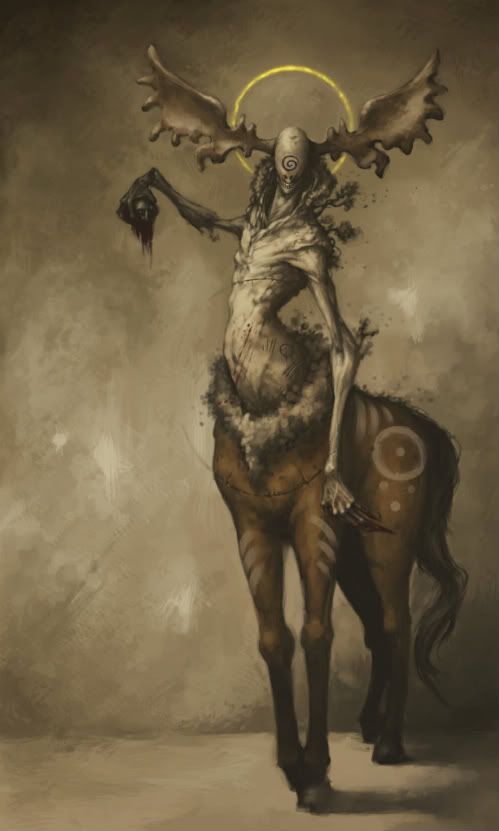 Lesovik is a magickal creature as changeable as the forest, very similar to sunshine on a leaf. He is also as full of wily tricks as the forest is of leaves. Sometimes these pranks can be fatal. Sometimes he can be dangerous. He doesn't like hibernating in the Winter and breaks forth in the Spring with such violence, that no mortal would wish to encounter him, not even his devotees. Most of the time though, his pranks are not meant to be harmful. Not to anyone who does not harm the forest, that is. And he truly does enjoy a visit from any human who can tell a joke silly enough to make him laugh out. Lesovik, whom I fondly refer to as Leshy, is the male woodland spirit in traditional, pagan Slavic mythology, who protects wild animals and forests and is my Patron Deity.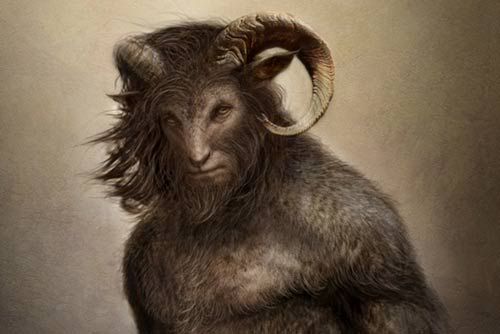 Leshy is a strange creature, the very soul of the forest, with blue blood, a long, grassy beard, bushy eyes brows and bulging green eyes. Leshy appears as a man and is tall, but he is also a shape-shifting forest divinity and a changeling, and can change his form, height and size into any animal or plant at will. He can shift from being a small, thin blade of grass when moving through open fields to a very tall, imposing tree when in the forest, but either way he will have no shadow. His hair and beard are made from living grass and vines and he has antlers, a tail and cloven hooves. Lesovik's skin is pale white or blue and contrasts with his vivid, brilliant green eyes and beard. He holds close bonds to the grey wolf - the king of the beasts in Slavic folklore, and the owl, and is seen in their companionship often.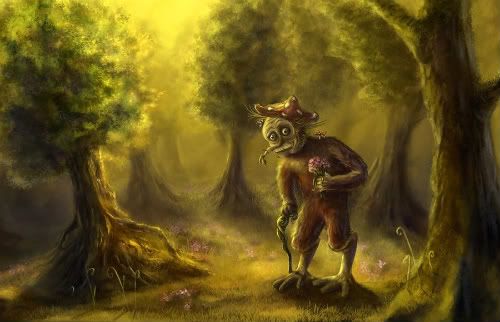 A traveller to the vast forest can hear Lesovik whistling, shrieking, singing or cackling somewhere in the distance through the trees. He is the Forest Lord and carries a club to express that he is the master of the wood. Leshy is the King of the Forest and Lord of the Slavic Wilds. He is like an old tree, green and tentacled with tendrils and colored earthen like its trunk. He is like a harvest mouse, passing unnoticed through the under growth. He is like a whirlwind, with leaves dancing in its core. He is like the owl, or the wolf, who is his constant companion, powerful and wise. Leshy has hair like ivy and a long, thin face, with a bright, cold look. He makes taiga sounds, sounds of the boreal forest, such as owl's call, wind howl, rain falling, leaves rustling and stirring in a breeze and echoes heard amongst trees.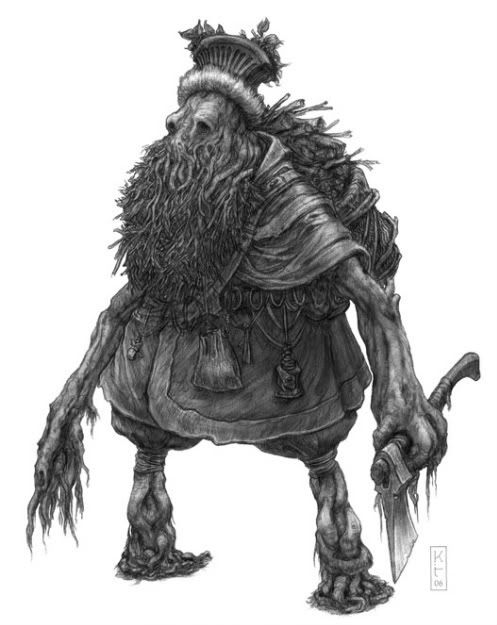 Lesovik is the protector of all animals and birds in the forest. Mass migration happens at his instruction. When he is in human form, he looks like a common peasant but his eyes glow, his shoes are worn on the wrong feet and his coat is button on backwards. In some tales he appears to travellers as a large talking mushroom. Leshy will teach a person the secrets of magick if they befriend him, but he has many tricks, including leading peasants astray, tickling them to death and hiding the axes of woodcutters. If Lesovik crosses the path of a person in the forest, he can make them lose their way in an instant. To find the way out, you have to turn your clothes inside out and wear your shoes on the opposite feet. Leshy is a terribly mischievous creature, with a somewhat jealous spirit. He has a horrible cry, and imitates the voices of people familiar to wanderers to lure them back to his cave.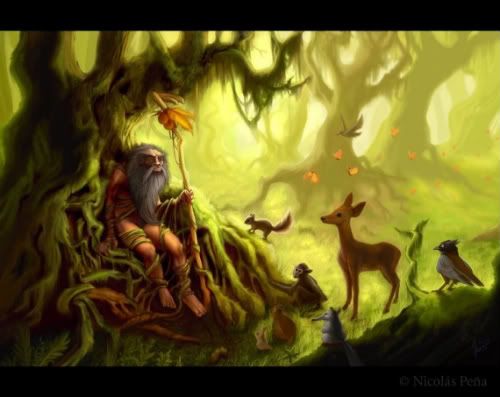 Leshy removes signs from their posts in his domain. Although he enjoys misguiding humans and kidnapping beautiful maidens, he is not evil, and is known to keep grazing cattle from wandering too far into the forests and getting lost. As one walks through the forest, Lesovik is the crackle of leaves one hears behind, and the presence one sometimes feels watching, from a small distance. He leads travellers astray in the woods, making them circle round and round until every tree begins to look the same and landmarks melts away. However, Leshy would almost always release them if they invert some aspect of their nature (such as their clothing), which is a sure way to break his enchantment. Sometimes a good joke just might persuade him to let you be. Still Lesovik has a temper and will not hesitate to send a person into the dark forest to their death, if they cross him.
Lesovik is linked to the life of the forest, dying in the fall, returning angry and vicious in the Spring, and always ready and rearing to make mischief. Hunters and woodmen knew they would be forced to abandon their original path, meeting grave and dire peril, if they carefully listened to Leshy's call. Every single noise could disguise an obscure danger. He often lives on branches, sleeping like a baby in a cradle. One can hear him laugh, cry or sigh in his sleep. At the height of his power however, Lesovik is a wild and capricious sovereign, as ambiguous and complex as the forest herself. Late in autumn, before he takes his underground refuge, all the animals run away from Leshy's destructive rage. In summer time however his temper improves a lot, and he would sometimes put the path-signs back in their places, help wayfarers to find their way and guide a lost child back home to its village.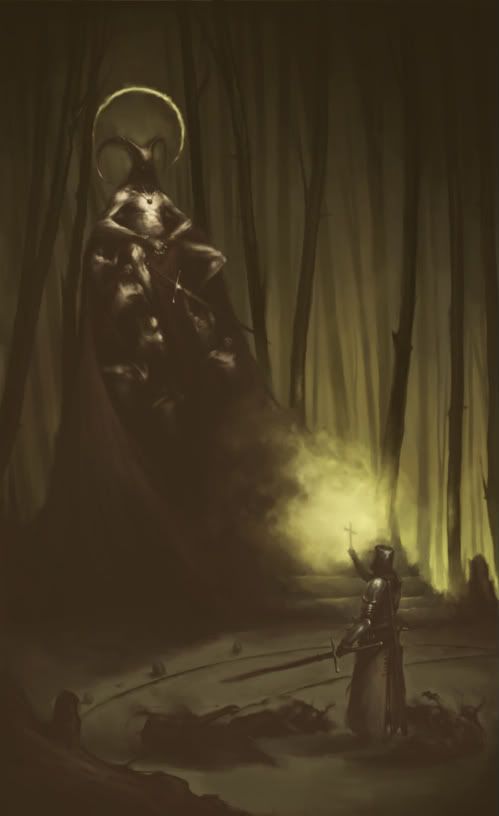 On the contrary however, at other times Lesovik would amuse himself by carrying a traveller to the wrong track, leaving him in the middle of marshes and on the edge of fearful precipices. Now pleasant, then terrorising, Leshy's laughter was able to cross over forest borders. Walking in his woods are risky. You can try to get into his good graces by offering him bread and salt as a promise of eternal friendship. Bread is the symbol of life, and salt with its preserving properties, is a the symbol of eternity and the steadfastness of earth. Of course Lesovik is only one of the bewitching creatures living within wild, earthy places, and inhabiting my forest. I know he is weird and eldritch, scary and frightening, but the most dangerous quality of my Patron Deity is his alluring and captivating, enchanting and enthralling call to my soul ... through the trees.
Brightly-spun breezes,
Faemore Lorei.